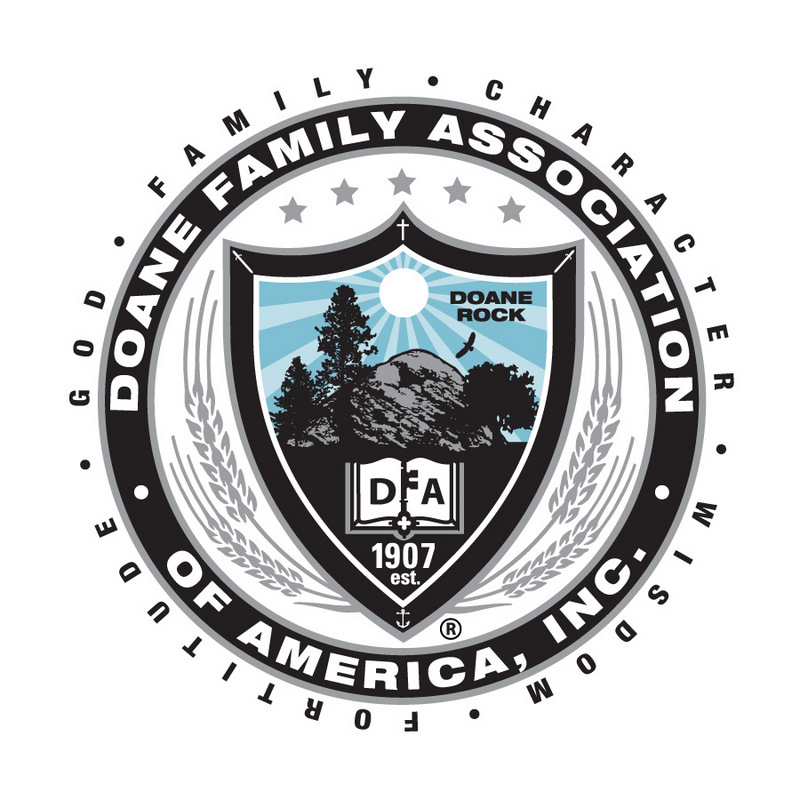 Home
Contact Us
Doane College
Membership
Genealogical Information
Calendar/Events
DNA Project
DFA Chapters
Who was Deacon John Doane?
DFA Publications
DFA Bylaws and Constitution
People Places Things
The DFA Logo
Doane Family Foundation Scholarship
DFA Reunion Pictures and Papers

The Doane Family Association of America
Calendar/Events
---
This is the first Doane Family Association Great Plains Chapter Retreat.
It will be held in Emporia, Kansas on July 22 & 23, 2017 (Saturday and Sunday). Anyone who is a member of the Doane Family Association of America, or is interested in becoming a member, is invited to attend. Of course, that includes all who are descendants of Deacon John Done (Doane, Doan, and other variations in your genealogy). The Great Plains Chapter is hosting the retreat, but we at the Great Plains Chapter would like to see anyone from anywhere come to this fun-filled get-together. We will have assistance with genealogy and you can meet long-lost relatives whom you may not know existed. For some of us, it is also an occasion to see people we have become fond of and don't get to see very often.
Schedule:
Saturday, July 22, 9 a.m. registration and getting the lay of the land! Meet and greet everyone and go over the schedule. Activities for Saturday include: Tour Red Rocks (Home of William Allen White); Sweet Granada chocolate demonstration: Dynamic Discs Disc Golf Warehouse tour; Lyon County History Center tour; ESU Planetarium; time for shopping at boutiques, antique shops, specialty shops and things that are "Kansas;" lunch at a great Emporia home-grown eatery. There is also an Emporia Craft Beer Brewery and eatery. Emporia has new movie theaters, including 3D. Emporia is the place where all of the Twinkies in the world are made!
Sunday, July 23 we will spend time at the Zoo and Botanical Gardens before going to Peter Pan Park for a great picnic. There is a fabulous playground for kids and those who act like kids. Horseshoes and tennis courts are next to the shelter where we eat. A disc golf course is available for those who want to give it a try. You will have an opportunity to make your own disc at Dynamic Discs on Saturday. Emporia is the premiere site for Disc golf tournaments in the country and has hosted world class-events.
Guest List: Please put your name on the guest list . Cost will be $20 per adult. Adults are those who are age 16 and older. Kids are $5.00 each (under16). This includes the picnic meal. Lunch on Saturday is self-pay and not covered by the retreat fee.
Accommodations: Assistance with motels/hotels and camping facilities and
Emporia Kansas Visitor Information
There are many lakes and camping sites around Emporia. You can ask questions on this Facebook page, by clicking on the "more info" button under the Kansas Sky picture. You can also get further info about the Doane Family Association and membership. Check it out and lets get a lot of us at this RETREAT! We promise family and fun for all!
---
Plans are being made for the 55th Biennial Reunion of the Doane Family Association of America to be held in the summer of 2018.
For reunion information please contact info@doanefamilyassociation.org